Resources for the Shire of Hartshorn-Dale.
Shire device and badge
Shire Documents
Minutes from the Business Meetings
SCA Policies: Harassment , Photo Publication
Email List
East Kingdom Email Resources
Shire Games
Shire Zip Code list
From the SCA Armorial
Name – Shire of Hartshorn-dale – registered August 1988
Device – Or, a stag's attire and on a chief azure three laurel wreaths Or. – registered October 1988
Badge – Azure, an unstrung bugle horn bendwise sinister Or. – registered October 1988
All Shire members may display the badge.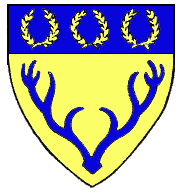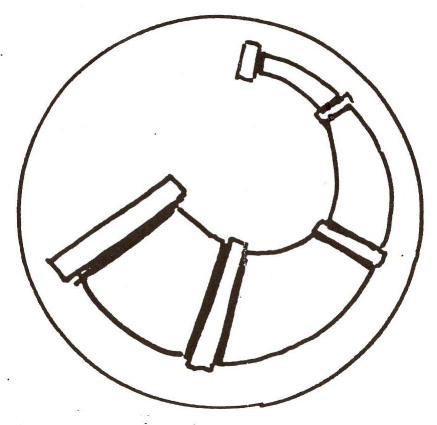 Shire Documents
SCA Policies
The SCA Harassment and Bullying Policy
Click here for the official SCA Harassment and Bullying Policy.
This policy must be posted at Gate for all events, and included in all site handouts.
Photo Publication Policy
Permission is required to post an individual's photographs, and to post portrait style photographs of an individual.
Click here for the East Kingdom Chronicler page , which lists the documents and policies for publishing information and photographs. Or click here for the page on Publication Permissions.
Mailing List
The Shire maintains an electronic mailing list to remind members of upcoming events and post other announcements. All official practices and events are announced on the list.
To subscribe, e-mail: hartshorndale-request@hartshorn-dale.eastkingdom.org and use the subject 'subscribe'
To unsubscribe, e-mail: hartshorndale-request@hartshorn-dale.eastkingdom.org and use the subject 'unsubscribe'
Messages for the mailing list are sent to hartshorndale@hartshorn-dale.eastkingdom.org
You must subscribe before you can send messages to the mailing list.
If you encounter any problems, please contact the webminister
East Kingdom Email Resources
The East Kingdom provides Gmail email address for all East Kingdom SCA members.
To sign up for your East Kingdom email address, complete the application at the East Kingdom New Account Portal.
The Webminister manages officer emails, using resources provided by the East Kingdom Webministry.
Shire Games and Instructions
The Shire owns a variety of medieval games. Instructions for most of these games can be found here. (note: this link will take you to a separate website, which is not maintained by Hartshorn-Dale.)
Shire games include:
Alquerque
Byzantine Chess
Fitchneal
Fox and Geese
The Game of the Goose
Go (beginner boards, 8×8)
Nine Mens Morris
Zip Code list
This is the offical list (as of September 2014) of zip codes covered by the Shire
of Hartshorn-dale. If you do not see your zip code listed here, it may mean that
there is another SCA group closer to you, but you are still welcome to participate
in our activities.
18054 Green Lane
18074 Perkiomenville
18084 Somneytown
18915 Colmar
18918 Earlington
18936 Montgomeryville
18957 Salford
18958 Salfordville
18964 Souderton
18969 Telford
18971 Tylersport
18979 Woxall
19002 Ambler
19301 Paoli
19310 Atglen
19312 Berwyn
19316 Brandamore
19320 Coatesville
19333 Devon
19335 Downingtown
19341 Exton
19343 Glenmoore
19344 Honey Brook
19345 Immaculata
19353 Exton/Lionville

19354 Lyndell
19355 Malvern
19358 Modena
19365 Parkesburg
19366 Pocopson
19367 Pomeroy
19369 Sadsburyville
19371 Suplee
19372 Downingtown/Thornedale
19376 Wagontown
19380 West Chester
19381 West Chester
19382 West Chester
19383 West Chester
19395 Westtown
19397 Southeastern, Pa
19398 Southeastern, Pa
19399 Southeastern, Pa
19401 Norristown
19403 Norristown
19404 Norristown
19405 Bridgeport
19406 King of Prussia
19407 Audubon
19408 Eagleville

19409 Fairview Village
19420 Arcola
19421 Birchrunville
19422 Blue Bell
19423 Cedars
19425 Chester Springs
19426 Collegeville
19428 Conshohocken
19430 Creamery
19432 Devault
19435 Frederick
19436 Gwynedd
19437 Gwynedd Valley
19438 Harleysville
19440 Hatfield
19442 Kimberton
19443 Kulpsville
19446 Lansdale
19450 Lederach
19451 Mainland
19453 Phoenixville/Mont Clare
19454 North Wales
19456 Oaks
19457 Parker Ford
19460 Phoenixville

19462 Plymouth Meeting
19464 Pottstown
19465 Pottstown
19468 Royersford
19470 Saint Peters
19472 Sassamansville
19473 Collegeville/Schwenksville
19474 Skippack
19475 Spring City
19477 Spring House
19478 Spring Mount
19480 Uwchland
19481 Valley Forge
19482 Valley Forge
19486 West Point
19489 Valley Forge
19490 Worcester
19492 Zieglerville
19508 Birdsboro
19518 Douglassville
19520 Elverson
19523 Geigertown
19525 Gilbertsville
19542 Monocacy Station
19543 Morgantown